Some of the links in this post are affiliate links. This means if you click on the link and purchase the item, I will receive an affiliate commission at no extra cost to you. All opinions remain my own.
In recent years, the GOLO diet has gained popularity as a weight loss program that claims to help users lose weight and improve their overall health.
The diet is centered around the idea that balancing insulin levels is the key to weight loss and that traditional calorie counting and restrictive diets are not effective in the long term.
As of updating this review (April 2023), more than 500,000 persons have already used the Golo Diet Program to help them lose weight and improve their health and vitality.
With such impressive numbers though, it is quite tempting to jump on board if you are looking for a program to help you drop those extra pounds and get healthier.
After all, if over 500K people are already on board they must be doing something good right?

Well, not so fast tiger!
Before you decide to sign up for the Golo weight loss program, read our 100% unbiased GOLO Diet review first.
This Golo Diet program review will help you make an informed decision if this program is for you! We will examine its principles, effectiveness, and potential benefits and drawbacks. We will also analyze the scientific evidence behind the diet and provide recommendations for those considering trying it.
You don't want to join a program just because others are doing it.
Remember, we all have different bodies, metabolism, and goals.
So what works for one person doesn't necessarily mean that it will work for you.
So with that being said, in this Golo Diet Review, we'll take a closer look at the program that so many online reviewers are raving about.
What Exactly Is The Golo Diet?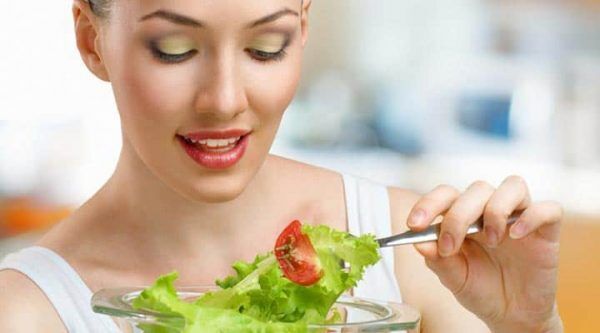 Created by bestselling author Keith Ablow, MD who is a Johns Hopkins School of Medicine graduate, the GOLO diet program consist of a 3 part system that claims to help you:
Lose Weight,
Look Great
And Love Life!
The premise of the 3-part system is that in order to lose weight, you don't need to count calories but rather you need to manage your insulin levels.
This arises from the fact that high insulin levels contribute to slow metabolism which literally shuts down your body's fat-burning mode. So instead of using excess foods for energy on a daily basis, your body will be more inclined to store it as fat.
They claim that a person with a slow metabolism will gain weight easily and have trouble losing that weight despite dieting.
.. And the only way to achieve meaningful weight loss is by managing your insulin levels in an effort to keep your metabolism elevated.
Read!
Lose 52 LBs In 28 Days – No Exercise Needed!
The Golo system is comprised of 3 main parts.
These they claim will lower your insulin levels and boost your metabolism allowing you to burn fat fast and 'Rescue' your body in as little as 30 days:
The Patented GOLO Release Supplement
The TRUTH and CHANGE booklet
METABOLIC MEAL PLAN
Bonus – Support!
To have a better understanding of how the program works, it's important to analyze each of the above products and see how they fit together to help you lose weight.
Let's first look at the supplement since it's basically the backbone of the company.

The Golo Diet Release Supplement (Patented)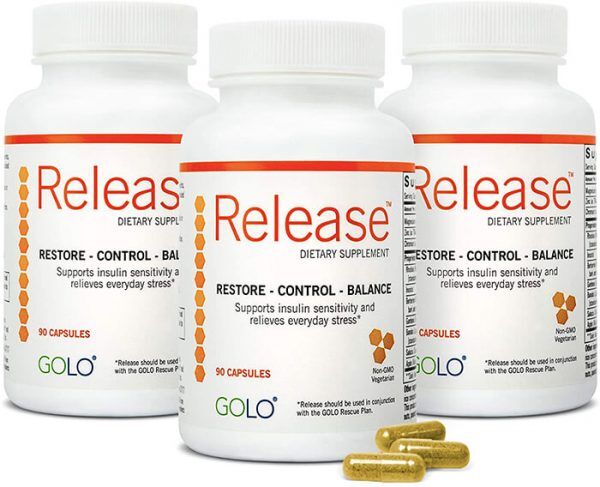 The GOLO Release is an all-natural supplement that comes in a 30, 60, or 90-day supply.
The patented formula is said to help boost your metabolism while helping to heal metabolic dysfunction.
The supplement works in combination with the diet plan to provide your body with adequate nutrients needed to support your body's lean mass and keep your system running optimally.
From a fat loss perspective, this is very important because the more muscle mass you have, the faster your metabolism will be.
The other notable fact about the release supplement is that it does NOT contain caffeine or any other stimulants, unlike most other supplements.
According to the official website, this supplement is safe to be taken while on medication.
Ingredients In The GOLO's Release Supplement
Most weight loss supplements are comprised of either Garcinia Cambogia, Green Coffee Bean Extract, Green Tea Extract, or some form of caffeine or other stimulants.
However, the GOLO release supplement is in a class of its own.
It is consists of 7 natural plant-based ingredients and 3 minerals.
All of which the official website claims have been scientifically proven to work.

Read!
Doctors Stunned: This Melts Belly Fat Like Crazy (Try Today)
GOLO Release Supplement's Ingredients
Banaba leaf Extract
Banaba leaf extract has been used for thousands of years to treat diabetes in places like the Philipines and India.
The extract contains an active ingredient known as corosolic acid which has blood sugar-regulating properties.
In fact, some studies have shown that this extract can lower blood sugar levels in as little as 60 minutes in persons whose sugar levels have been elevated.
Another property of Banaba extract is that it is used to help correct leptin problems and food cravings that are typically found in overweight individuals who have elevated blood sugar. (1)

Berberine
This is a natural supplement on its own with many health benefits.
However, we can postulate that the main reason for this ingredient in the Golo release supplement is its ability to reduce blood sugar levels.
Many studies also confirm that Berberine can also lower blood sugar levels in persons with type two diabetes and have also been compared to the popular diabetes drug metformin. (2)
Chromium
This is an element that is typically found in foods like broccoli, grape juice, meat, and whole-grain products.
We typically need a small amount of this element but research has found that many people are not getting enough. In fact, it has been found that an estimated 25-50% of the U.S. population is mildly deficient in chromium. (3)
So why is Chromium important?
Well, it helps to enhance the function of insulin and we need it to maintain normal metabolism and storage of macro-nutrients such as carbs, fats, and proteins.
A lack of Chromium (Chromium deficiency) has been linked to glucose intolerance which as stated earlier will lead to a slow metabolism.
Apple polyphenol
Want to lose belly fat also known as visceral fat?
Well, you'll be interested to know that Apple polyphenols have been shown to reduce visceral fat accumulations in human studies.
One study was done on two groups of people. One group was given a placebo and the other was given 600 mg/day of apple polyphenols.
The groups were monitored over a twelve-week period after which their body scan was taken.
The group that was given the placebo actually gained weight and inches around their midsection (belly fat) while the group that was given the 600 mg/day of apple polyphenols actually lost weight and inches (belly fat) from their mid-section. (4)
Salacia bark extract
This ingredient in the Golo Release supplement is an herb that is native to Sri Lanka and India.
It is said to have anti-diabetic properties and is very effective at lowering blood sugar levels.

The Salacia bark extract is also known to inhibit carbohydrate uptake from the intestines. (5)
Zinc oxide
Zinc is a trace element that helps the body in many ways.
It acts as an anti-inflammatory agent, helps with hormone production, growth, and repairment; improves immunity and facilitates digestion. (6)
Rhodiola
This is an amazing herb with quite a number of health benefits.
Some of these include: Increases Energy & Decreases Stress, Controls Blood Sugar Levels, Helps With Weight Loss, and May Help Adrenal Fatigue among others. (7)
Gardenia Jasminoides fruit extract, Inositol and Magnesium, and magnesium oxide
These ingredients combined will boost metabolic health and provide synergistic support. (8)
How Does Golo Work To Facilitate Weight Loss?
A few paragraphs above we stated that the system does not rely on the traditional counting of calories to facilitate weight loss. This may be contrary to what a lot of health gurus proclaim.
Most health experts live and die by the calories in vs calories out methodology.
However, Golo presents a new concept to the table.
Instead of focusing on what's going in versus what's coming out, they attack weight loss from a more biochemical level.
The approach is to focus on speeding up one's metabolism so that you can burn more calories on a daily basis but without focusing on the "so-called counting of calories."
This may seem a little confusing at first but what this basically means is you'll be able to eat nutritious foods and burn it off easily without worrying that it is going to be stored as fats.
According to golo.com:
The Secret to Losing Weight is Managing Insulin, Not Counting Calories.
So the main objective of the program is to incorporate healthy eating of foods that will help you to better manage your sugar levels.
Accompanied by the Golo Release supplement we examined earlier, this combination is a sure-fire way to keep your metabolism firing.
The program claims to focus on long-term weight loss by teaching you basic concepts about grocery shopping and the foods you need to eat on a daily basis to keep hunger at bay. Basically, you'll learn to eat the foods you love without worrying about 'dieting' and starving yourself.
The company claims that in comparison to traditional diet protocols you'll be eating a lot more food that will give you the energy you need to power through your workouts and keep your metabolism elevated.
How Carly Lost 36 Pounds In 13 Days
If you're upset about your weight and want to lose a little more, get this…
An overweight mother with pre-diabetes has just SHOCKED the medical community by losing an unheard-of 22lbs pounds in just 13 days without starving herself, she lost a total of 37lbs in the first month!
Even without exercising, she went on to burn off 84lbs (almost a pound a day) and eliminated any sign of diabetes or any other life-ending diseases.
And the amazing thing is…
All she did was this D.I.Y. "carb-pairing" trick that reconditions your 3 female weight-loss hormones to drastically accelerate fat-burning while still eating the foods you love.
So Does Golo Diet Really Work?
In order to answer this question, we'll look at some of the unbiased Golo customer reviews that we came across while conduction our research for this Golo Diet Review.
Reviews from persons who've actually used the product will be the best way to know or at least have an idea if the product truly works or not.
One of the best places to find unbiased reviews is Amazon.com. And Since the Golo diet program is also sold on Amazon, we can have a look at what some of the past customers are saying…
Reviews Of the Golo Diet On Amazon Are Mixed
The image above was pulled from Amazon.
As you can see, only about 54% of customers that left a review gave 5 stars. This means that 46% weren't so happy with the program.
Below is a sample of the reviews so you have an idea of what people are saying…
I tried this product and it does not work. followed instructions and noticed nothing!! This product is overpriced and does not work. I definitely do not recommend this product!! Theresa (Verified Amazon Purchase)
I bought this stuff from their website after seeing it on tv. The commercial made sense to me. I just wanted to warn people as I mostly buy products from Amazon that after 30 days there was no difference in my diet from taking this or not taking it. Made no difference in my weight loss. Save your money. Just another gimmick. BK63
I have been using GOLO for 6 weeks. I have lost about 4 – 6 lbs. The plan gives you all you need to succeed, but I'm not a big vegetable fan and I really don't like to cook. I will continue on it for the remainder of my pills and will do my best to eat all the recommended food plans. I don't have a lot of weight to lose but does work so I'll con. Amazon Customer
I started the GOLO plan 3 months ago. The plan has given me a great perspective on the food I eat and the preparation to ensure a more clean eating way of life. I didn't realize how much-processed food I was eating. Changing to this way of eating and supplementing with the release product and continuing with my daily walks with Leslie Sansone has netted me a 12 lb weight loss and my belly fat has gone down considerably. I love this product/meal plan. Anne Smith
Are There Any Golo Side Effects To Worry About?
If you were looking to try this program them you are probably wondering if there are any side effects to worry about.
Well, the truth is, the program contains a complete weight loss package that includes dieting and exercise and the supplement.
That said, we can understand that there will be no side effects from eating healthy and exercising – everything else being equal of course.
On the other hand, though, the supplement would be the main thing to worry about. Based on our research there are a few reported side effects of taking the Golo Release supplement.
These include:
Mild Dizziness
Headaches
Premenstrual symptoms
Elevated blood pressure
Hard to breathe, headache, palpitations, and just a sense of feeling bad
twitching eye
Note, however, that we cannot confirm whether or not the persons who experienced these side effects adhered to the recommended dosage or if they had any underlying health issues prior to using the supplement.
Is Golo Diet A Scam?
'SCAM' is a very harsh word to throw around.
But The short answer is NO! The GOLO Diet program is NOT a scam.
For a company to be a scam, they would have to take your money and not deliver the product or service they promise. Golo has been around for quite a number of years now and has built up a positive reputation for themselves.
Does that mean the product works for everyone who buys?
Certainly NOT!
This is a diet program and in all fairness, in order for it to work for everyone, the conditions would have to be controlled across the board. Unfortunately, we are all different.
Different environments, different body types, different amounts of weight to lose, and different willpower. Some people will follow the instructions and remain consistent while some will try it for a few days/weeks and give up.
That's just the nature of diet programs. But to say it is a scam would be totally unfair and unwarranted.
The Pros And Cons Of The Golo Diet Program
Let's Look At The Pros
You don't have to focus on counting calories
You are allowed to eat a variety of foods on the Golo plan
You typically eat more foods than traditional diet programs
Focuses on managing your blood sugar levels and not just weight loss
The meals are family-friendly so everyone can enjoy them
The program comes with a money-back guarantee
Let's Look At The Cons
Requires a lot of will power to stick to the program to achieve meaningful results
It doesn't work for everyone based on past customer reviews.
The results from using the Golo release supplement can be questionable
The price is on the expensive side when compared to other products.
Final Verdict/Recommendation
If you've already made up your mind on trying the Golo weight loss program then probably nothing we say can change that.
That said, Golo is a good program that can help you live a healthier lifestyle and achieve your goals if you are dedicated and consistent to follow through.
The problem we have is that most of the marketing is geared towards the promotion of the Release supplement. If you are looking for an effective program to help you lose weight then we think there's a better option.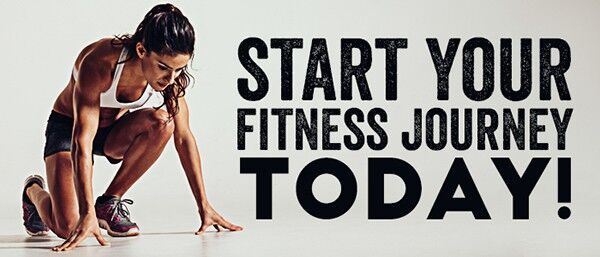 Was this post helpful?
Let us know if you liked the post. That's the only way we can improve.